Call and Response: Clementine of The Camerawalls
by Aldus Santos, Jason Caballa
February 10, 2017
For discerning listeners weaned on acts as disparate as The Smiths, The Jam, Echo & The Bunnymen, XTC, Belle and Sebastian, and their ilk, The Camerawalls were tops. They were painfully sterile but also strikingly brash; their numbers hook-laden but always peppered with imagination. Pocket Guide to the Otherworld was quite simply the best kind of candy, "Clinically Dead for 16 Hours" replete with Moz-style bleak cheek, and Bread and Circuses immense. And so, when Clementine and company went on a protracted break—a nominal hiatus that stretched to almost half a decade—other projects sprang and the musical landscape endured a handful of facelifts and nose jobs. But what never ceased were the what-elses and the could-have-beens pinned on bands that prematurely went away. Well. That is all over now in the case of The Camerawalls, who are slated to play Above the Weather, a career-spanning concert at the Music Museum on March 15. They've also unveiled a new single called "Boys in the Backroom," which formally launches via Pinoytuner Mondays at Craft BGC on February 13. We catch up with mastermind Clementine below.
Pinoytuner: You've had a pretty acclaimed and busy career as Dragonfly Collector in the past several years. What made you want to bring The Camerawalls back together?
Clementine: My years as Dragonfly Collector were a period of reflection, discovery, and experimentation. It's a way of opening myself to boundless possibilities and opportunities without fear and without the challenge of managing or leading a group. I was free. If I wanted something done, I'd do it; I didn't have to wait for or get the approval of anyone. If I say I want to tour the Philippines non-stop for four months, I just do it, whatever it takes, however difficult and ambitious it may seem. And if I fail, no one is going to blame me but myself. That is the beauty, the challenge, and the intricacy of creative control.
As a solo artist, I had the privilege and opportunity to work with different musicians including members of elite orchestra groups. It was an amazing experience hearing my own songs being performed with, and alongside, a full orchestra. This happened with two of my songs as Dragonfly Collector, arranged and performed by the ABS-CBN Philharmonic Orchestra and conducted by Gerard Salonga during a special variety show in the Philippine Arena. Afterwards, I made an addition to my bucket list: a concert of my own with an orchestra. As Dragonfly Collector, I wasn't ready with just one album released. That's where the idea of The Camerawalls doing a major concert germinated in my head for many months.
Last year, after my Southeast Asian tour as Dragonfly Collector, I felt some renewed positive energy towards the idea of regrouping with The Camerawalls. A gut feeling that the time was ripe. I always follow my gut, and it has led me to either success or disaster depending on the choices I make. For the record, we never officially disbanded The Camerawalls. It was a mutually imposed indefinite hiatus. I'd like to use the word "imposed" because it was abrupt and necessary at that time from the burn-out we were experiencing. But I knew deep within that someday we would find ourselves wanting to do something again and continue where we left off.
When a good friend I've known for a year or so encouraged me to pursue the "concert" idea, that's the time I called Bach and Law. They said yes! And the rest will become history.
Pinoytuner: As being the main songwriter in all the bands/projects you've been involved in, how would you differentiate The Camerawalls' sound from, let's say, your solo work? Does your writing draw from different inspirations or influences?
Clementine: Songwriting-wise, I think the difference is growth and maturity. Sound-wise, it's the production and the instrumentation that marked my progression from one project to another. Dragonfly Collector's The World is Your Oyster had no boundaries during recording. My producer Jonathan Ong and his sound engineers at Sonic State Audio had full reign on the production. And that trust never failed me. We might apply that same direction with future Camerawalls releases. Never worrying if we cannot reproduce the sound in live performances as long as we have a good record to cherish for a lifetime.
Pinoytuner: You just released "Boys in the Backroom." How much new material have The Camerawalls recorded since getting back together? Is there a full-length or EP in the works?
Clementine: "Boys in the Backroom" was the first and only new material I wrote for The Camerawalls since we started rehearsing in the studio. After one session, we discussed the possibility of writing and recording a new single. Ideas were presented, and we agreed on a direction. A couple of days later, I came up with a song. After two spontaneous jamming sessions and a whole day recording, it's now being aired on JAM 88.3. Summing up all the time we spent collectively, it only took us about 24 hours to write, rehearse, arrange, and record the song. The incubation period was so short it felt like we've never been in hiatus. It felt so raw and natural. I see no reason why we shouldn't commit to start working on a full-length album.
Pinoytuner: Congratulations on your upcoming show at the Music Museum on March 15. It's pretty ballsy for an indie band to hold a show in such a mainstream venue. Are you confident with the turnout? What do you have in store for fans?
Clementine: Thank you! It is indeed an ambitious project especially for an indie band and the genre we represent. We are confident but at the same time nervous. It's a lot of work and there are many people involved. We do not want to disappoint ourselves, our family and friends, our fans, and the people and sponsors we work with. Unlike Dragonfly Collector, this project is no longer just about me and my propensity to be alone. This is about a team, a family working together to put on a good show and to achieve something that we hope will spark inspiration for other independent musicians and songwriters out there.
The arrangements for the String Orchestra is almost done courtesy of Jojo Gatmaitan, the younger brother of Venj and the studio drummer in the recordings of Dragonfly Collector. We heard some of it and it totally blew us away. The melodic aesthetics of our songs go well with a string section. For true fans of the music of The Camerawalls, this is something that they shouldn't miss, because it may never happen again.
Joining us is a fellow musician all the way from Sydney, Australia. His name is Bryan Estepa. A like-minded singer-songwriter who, unbeknownst to many Filipinos, has made waves in the international scene with five studio albums under his belt. As a recent addition to Lilystars Records' roster, we invited Bryan to fulfill his dream of reacquainting himself with his Filipino roots and introduce his music to local music fans here. Also on the bill is a crossover soprano singer and violinist friend, Jing Reyna-Jorge, to jam with Bryan Estepa and The Camerawalls on some of the songs.
Pinoytuner: Looking back at your lengthy career thus far, are you pleased with what you've done and what you've achieved? Why?
Clementine: It's not the years, it's the mileage. Five albums and an EP in seventeen years is a small number compared to what the luminaries have achieved. But then again, there's quality over quantity, and I take pleasure in that. There are many things that happened in my career that I find unfavorable and disheartening. I have no regrets. I have learned to appreciate the failures, for they contributed a lot to my growth as an artist and as a human being filled with purpose. It's an endless journey and I'm still finding my way. Being optimistic helps a lot, keeps me above the weather. As my song goes, "something good ends, something better will begin."
The single launch happens via Pinoytuner Mondays on February 13 at Craft BGC.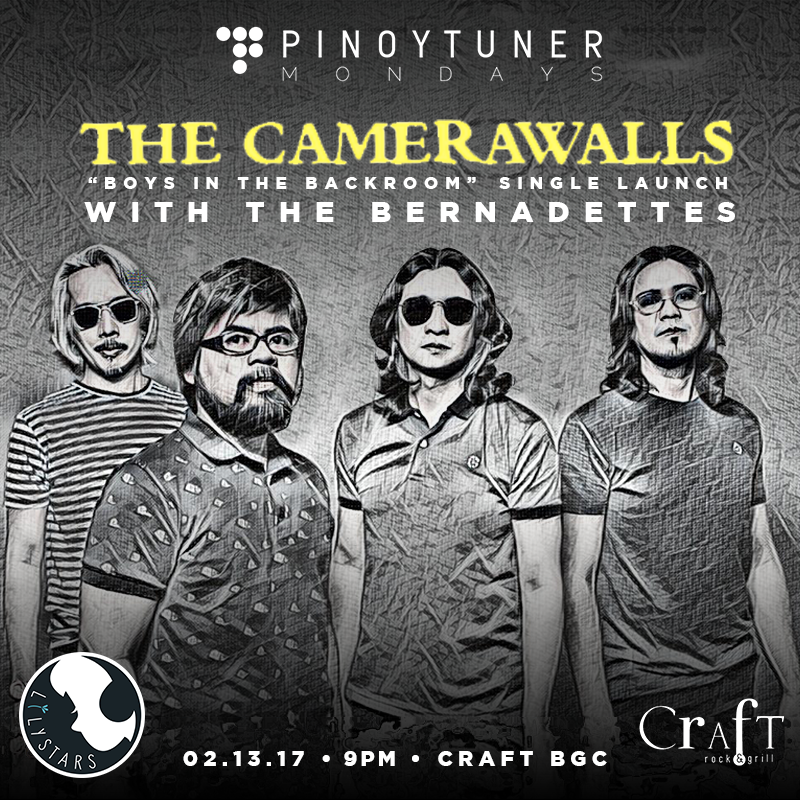 The special reunion set happens March 15 at the Music Museum. Tickets here.