Drummer and punk legend Marc Bell, a.k.a. Marky Ramone, is the longest-serving of the last surviving members of the Ramones, the pioneering New York City band that is largely credited with kick-starting the punk rock movement during the mid-1970s, when acts like them, Patti Smith, Television, Talking Heads, Blondie, and others began playing shows at the now-defunct NYC club CBGB's. Although he wasn't the band's original drummer, he played on twelve of the band's studio albums, from 1978's Road To Ruin to 1996's farewell ¡Adiós Amigos!, as well as all of the Ramones' shows and tours during that period (save for a brief time between 1983 and 1987, when was fired from the band due to his alcoholism). Since then, Marky has continued to play shows and even record several albums as Marky Ramone and the Intruders, and then Marky Ramone and the Speedkings. Currently, he tours with Marky Ramone's Blitzkrieg, a Ramones tribute band fronted by former Misfits lead singer Michale Graves. As part of their Asian tour, Marky Ramone's Blitzkrieg played an energetic, one-night-only set at the Hard Rock Café in Makati City last April 17, 2012, and DIGRadio.ph had the privilege of chatting with the punk rock legend just before the show.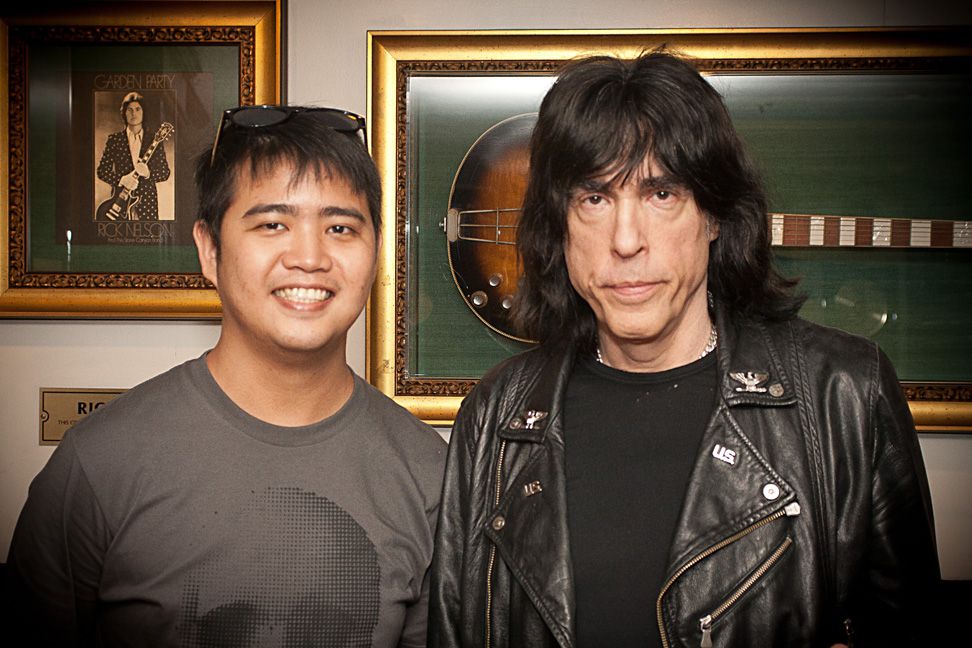 DIGRadio.ph: You were with Richard Hell and The Voidoids before you joined the Ramones…
Marky Ramone: It was a good band, and (we made) a good album (1977's Blank Generation). "Blank Generation" (is a) punk anthem.
DIGRadio.ph: Are you still in touch with the people from the CBGB's punk scene from back in the day?
Marky: With Richard, yeah. Bob (Quine), the guitar player, died (in 2004). And Ivan (Julian, guitarist) I saw years ago; I don't speak to him anymore. But Richard (and I), we stay in touch on a business level.
(I still see Blondie singer) Debbie Harry, definitely. (Blondie drummer) Clem Burke was at my party when (the Ramones) won the Lifetime Achievement Grammy (in 2011). Glen Matlock from the Sex Pistols is a close friend. I know Billie Joe (Armstrong) from Green Day; Tim (Armstrong) and Lars (Frederiksen) from Rancid are good friends. The people from New York, a lot of them are dead. They're not around anymore, you know what I mean? They would've made great music. Johnny Thunders is dead. Jerry Nolan from the New York Dolls is dead; we were very close. Deedee (Ramone)'s gone; Joey (Ramone)'s gone. Stiv Bators from the Dead Boys, Sid (Vicious)'s gone. Joe Strummer from The Clash – not too many people left.
DIGRadio.ph: What do you remember the most from those days? What do you think defined the punk rock of that era and the scene that you came from? What made it special in a way that you don't hear from punk bands nowadays?
Marky: It was unique. It was the times. It was CBGB's; it was our place to play. All the bands had their own style; we were all talented. We were all unique and creative. We started something, and that's very hard to do. And the last thing in America that was really something like that was grunge from Seattle. That was it. And after that, what was there? Dance music and the um-cha um-cha – all that electronic crap? It's corporate junk. So (grunge) was really the last thing, but a lot of kids, I notice, are sick and tired of electronic music and all that junk because they want to see musicians play. They don't want to hear people singing to tapes or samples because (there's) a lack of talent. You know, you can dress up any girl like a Playboy centerfold or a girl in a stag book, and if she has a halfway decent voice, people will like her. But they always rewind the tape behind them because (these girls) can't do it live, because they're not that good. And then you don't hear from them a year or two later. And then they're replaced by another… I call it "porn music." The "porn music star," you know what I mean? Luckily, a lot of the youth and the new generation are liking bands instead of this phony corporate bullshit.
DIGRadio.ph: I just saw (the 2003 Ramones documentary) End Of The Century a few weeks ago…
Marky: Raw was better.
DIGRadio.ph: I'll look for that one, but was the band's story really that sad?
Marky: No, it wasn't. That was the director's point-of-view. That's why I made (the 2004 DVD) Ramones: Raw, because it was fun. Obviously, if it wasn't fun, then we wouldn't have stayed together that long. I was in the band for fifteen years; we did 1700 shows. We wouldn't have been together for that long. But Johnny (Ramone) and Joey hated each other; they never spoke. John's famous words were, "I'm not going to see Joey in the hospital because I don't like him." (Someone asked), are you at least going to make up with him? "No, I don't care." So that's how bad it was. But we tried to make the best of it, and we left the negativity off the stage.
DIGRadio.ph: You started touring with different musicians under the Marky Ramone name. Why did you feel the need to keep the Ramones flag flying, so to speak?
Marky: Because there's a whole new generation. A lot of the kids who were around when we stopped were too little to go out; they were two, three years old. Now they're 17, 18, 19, and they're out. And somebody has to do these songs; they're too good not to be played. And here I am.
DIGRadio.ph: How did you choose the musicians to perform with?
Marky: Michale Graves was the lead singer, frontman, and writer for the Misfits and wrote their bestselling albums. And then he left and he wanted to do his own thing, which he continues to do. And I said, "Hey, I'm forming a band. Do you want to join?" And he said, "Definitely," because he loved the Ramones, and we do Ramones songs. He does an acoustic set of Misfits songs that he wrote and sang on. That was important to me; he has experience and he has his own style. And the other two – Mark (Neuman) and Crazy Joe – they're excellent, the way they play. They know it backwards and forwards. I had a few guitar players and bass players before this actually came together, and they're the best.
DIGRadio.ph: How long do you think you'll keep making music?
Marky: My body will tell me when to stop. So far, it hasn't.
Photo by Carlo Casas.