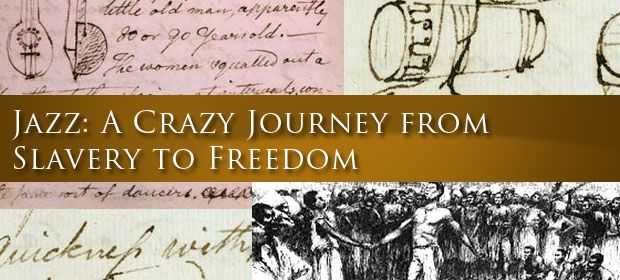 Educating myself on Jazz is not something that I ever thought I would do. I'm not really the kind of person who researches the history of musical genres. I just listen, appreciate, and move on with my life. So this is something that is strangely pleasant. Strange because it's different; pleasant because I've allowed myself to journey back into a very interesting time of creativity and discovery.
When you hear the word "jazz," what comes to mind? If we were to play picture-word association, this word conjures up images of black men in suits with their instruments – a guitar, saxophone, trumpet, and piano. Then of course there's the guy with the microphone – not just any microphone, but that cool vintage mic. It may not be the same image that you have, but that's my pretty stereotypical image of jazz. But jazz is more than just that. It is music that carries with it a rich and colorful history. In fact, it could give local teleseryes a run for their money with its own brand of a rags-to-riches story with its roots in slavery, conflict, and freedom.
Going through the various websites on jazz, it's apparent that its story begins in the dark shadows of slavery. When the slaves arrived on the shores of the United States, they brought with them their own strong musical traditions. Music for them had a purpose – it was functional. They used it for work or for rituals, hence what they refer to as the call-and-response pattern. However, as they were exposed to the sounds and harmonies of Europe, traces of this started finding its way in their music, creating a new distinct sound.
In the 18th century, slaves found solace and reprieve in New Orleans' Congo Square. On their days-off (typically a Sunday), they would gather in this square, which was also known as Place de Negres/Place Publique/Circus Square, where they could set up a market, sing, dance and play music. While reading this I couldn't help but picture Hong Kong's Central District on a Sunday, swarming with Filipinos relaxing on their day off. Everyone needs a release from the stress of the day-to-day, and connecting with each other through music sounds like a pretty good idea. I guess music has always had that element of release and escape. So from something that was purely for work or prayer, African music had developed into a form of therapy from work. However, it wasn't received well by outsiders.
One architect, Benjamin Latrobe, visited Congo Square sometime in the 1800s and wrote about his experience. He described what he saw as "savage." He recounts seeing a group of around 500 to 600 African men and women dancing in traditional tribal gear, obviously very different from what the white folk wore at the time. Was it "savage"? I don't think so. It was just different. Of course, this kind of music was branded as "slave music." The term itself implies segregation and social demarcation, which pretty much paints a picture of the environment in which jazz was birthed. Labeling their music as "slave music" and "savage" is like labeling our very own Ibaloi as "uncivilized" because they dress differently, speak differently, express themselves differently, and do things differently. They essentially used a certain set of norms to judge another set of norms, which is pretty unfair. I believe that this kind of environment and mentality contributed to the somewhat crazy reputation jazz has been known for. It didn't help that the circumstances that surrounded the African-American community were less than ideal, either.
When slavery was abolished, the doors of opportunity opened for African-Americans. They were allowed to look for work. Freedom was now theirs. However, old mindsets didn't just abolish themselves along with the slave trade, so many of them were only able to find work in the field of entertainment. It wasn't easy for them, though. Their choices and opportunities were very limited. Most musicians found themselves performing in brothels, or on minstrel shows and the like. From slaves and slave music they were now known as low-class entertainers. They were not viewed as "real" entertainers, and they had to deal with the stigma of being lewd. Clay Smith in Etude wrote, "If the truth was really known about the origins of jazz, it would never be mentioned in polite society."
Whether or not you agree with Smith, some words associated with jazz and this wild lifestyle may actually reinforce his perception. "Jazzbo" was defined as "low, vulgar jazz" and was later used as a "derogatory term for persons, especially blacks." Some believe and say that the term "to jazz" actually means "to fornicate." "Jism," which some believe was an earlier form of "jazz" was defined as "seminal fluid." "Boogie-woogie" was used in the 19th century by blacks to refer to secondary syphilis. The word "gig," which we hear musicians use all the time nowadays, was once a slang term for "vulva."
So perhaps Smith had his reasons for writing what he wrote. There does seem to be some nuances of the vulgar, lewd, and crazy hidden in the history of jazz, but I believe that circumstances played a huge part in this. It may even be a stretch, but we could even say that their music was described and defined from a very classist point of view, thereby resulting in a reputation that was exaggerated (to a certain degree). Maybe, just maybe, things were not as lewd and crazy as we have been made to believe.
Whether the descriptors are accurate or not, one thing is for sure, the history of jazz music is as complicated to trace as it is to define, and this is where some of the fascination with it lies. Its intricacies and complications shroud it with mystery and intrigue making it so much more enticing and enjoyable. J.J. Johnson once said that "jazz is restless. It won't stay put and it never will." This is really what jazz is – a perpetually-evolving genre that is an honest reflection of the people behind it. It is constantly growing, changing, and exploring. It was bound by tradition, it fought slavery, and eventually found freedom. Now after a colorful start, it is enjoying a life of its own, guided ever so carefully by creativity and passion.