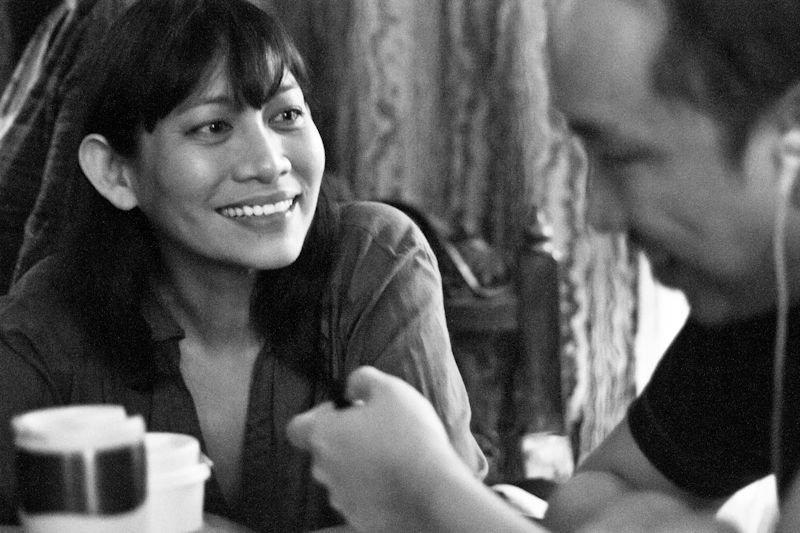 "I'm leaving for good," she begins, a feather-light stress on the last word. "I mean," she tries on caution like a hat, "we do things for good, for ourselves." And, in the same characteristic idiom-bending bent she's employed in her art, adds, "I'm not leaving for bad, you know? I'm leaving for good, in the sense of the word 'good.'" That Cynthia Alexander speaks in tongues, we are reminded, is a taken-for-granted reality. This particular bit of wordplay, though, is marred by an impending heartbreak. She is moving to Seattle by the end of the month, and, though we know different hues of "good," chalking this one as such, like breaking up, is hard to do. "It's a migration. I wouldn't use the word 'leaving,' because this is my home," she emphasizes, distractedly surveying the bar room at Conspiracy (her home, among other homes), brimming with well-wishers of all shapes and sizes. Tonight is the second leg of The Send-Off Series, the string of shows that counts down her approaching departure. Love is palpable on this rainy Saturday night, and it is not lost on the night's host and star, who shyly waves and smiles at every nameless, faceless person who throws her a greeting. There is, however, the flip side where she is admitting some form of—not defeat—but having reached a finish line painted a bleak gray-on-gray. "The Philippines is very rich, but we don't have support. It's true," we share a pause, because silence is the only proper response to a moment of truth-telling. "But The Send-Off," she clarifies, "is about me expressing gratitude to people who have supported me. That's the real story." Alexander, whose three studio albums and several other musical ventures spell a vast expanse of textured arrangements and fine poetry, adds, "I'm actually quite amazed that, without radio, without television—when you're independent in the Philippines—it can be possible, too." Judging from the sheer panic on the waiters' faces and the standing-room-only music room: why, yes, indeed.
Then there's the matter of the move. "Basically, I would say that I saw the opportunity for growth [there]," Alexander says, speaking of the musicians she has met, seasoned and new alike, among them producer-engineer Matthew Brown (the guitar player for Trespassers William who's also done studio work for Bill Frisell and Lucinda Williams, among others), who has already helped her lay down some tracks. With daughter Tala in mind (and in tow), the singer-songwriter was also egged on by the alarming state of the environment. "Climate change is contributing to my propelling me and my daughter off in the way—the air, the quality of water—because she's growing up, and I want her to have a better life, you know? And it entails sacrifices on my part," she explains, continuing, "At the same time, I'm excited about every other possibility that will open up." Diehards would remember Cynthia Alexander as one of the pioneers of contemporary Filipino independent music for opting to release her sophomore record Rippingyarns on her own, despite (or perhaps in light of) having debuted on a major label a mere three years back. "I still think that it's important to have your own voice when it comes to these projects, and in fact, I will always choose that over signing to a label. Unless there's a label that believes in you, then that's a different story. I don't know if there is such a thing as a 'perfect deal,' though. I don't think there is, not anywhere in the world," she admits.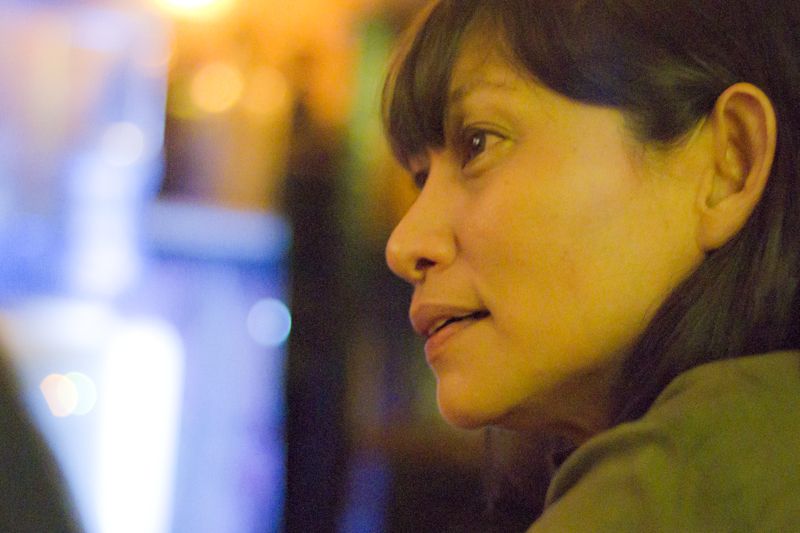 Cynthia Alexander was first thrust into the public eye with the aforementioned Insomnia and Other Lullabyes in 1997, banking on both song and song-craft, both accessible hum-worthiness and a hushed whirring of genius, churning out not chart-toppers but bedroom anthems for the thinking listener, songs like "Insomnia," "Comfort in Your Strangeness," "No Umbrella," "Malaya," and "Wait." While her listeners were pleased and her trophy desk started to swarm with testaments to her mastery (Best New Artist and Best Alternative Music Album at the Katha, to name a few), discontent was brewing. She caught faint whiffs of this right before she even got signed. "I came from a meeting with [my then-label], and I think kainitan yata ni Alanis Morrissette, so sinabihan ako—and I brought, like, thirty songs, ha—'Your music is fresh! But can you come back with songs like Alanis Morrissette's?'" She shakes her head in retrospective disbelief. "I was exploding. I didn't know what to feel!" she exclaims, and, when asked what she thinks is essentially wrong, suggests, "What I think is wrong might be priorities, and giving more value to money than to value itself. What is more important, the dress you're wearing or you? I think that's what's wrong. It's the banana and the banana peel, and they want the banana peel." Alexander was obviously from a different grammar—a predilection for non-Western motifs, a rhythmic sensibility reminiscent of her Davao roots, an ear for the poetic—one that, though pleasant to the ear and the heart, is not the grammar of the mainstream. When by the year 2000 she decided to pave her own road with Rippingyarns, her loyal following stuck with her, on a sort of glue seasoned by shared emotion and a love for tasteful guitar-playing. By the time Comet's Tail swung by in 2005, Cynthia Alexander has reached a creative peak only comparable to Brian Wilson's Smile in its uncompromising complexity within an otherwise popular framework.
"People sometimes ask, 'What are you writing about?' 'Where do you derive all of this material?' 'Where is it from?' It's from living. You know, every little detail is rich with meaning, and necessary in the scheme of things, so pay attention to the details," she poses a challenge to fellow songwriters, adding by way of silent imperative rather than empty sloganeering, "Mabuhay ka. Mabuhay tayo." Yes, these songs—"Motorbykle," "Intertwyne," "U & I," "Walk Down the Road," "Knowing There is Only Now"—are not crafted from fine fictions but from an openness to life and living. However, this particular life in local music, arguably among the finest, is nearing its end, and with it more questions than answers, in light of online piracy, a terribly unimaginative slew of music business types, and so on. "The music we write, is it ours, or is it everyone's? Should we be charging more for live music? Is [downloading] a greener way of dealing with it? I have a genuinely rising concern about the use of plastic and paper," she asks, and not rhetorically, it appears, so I ask her back, "Do you have answers?" Cynthia Alexander surveys the room once more. This time it's even more impossible, compared to an hour ago, to move around or even exchange a word or two with a soul. "Nah, I'm still juggling. I'll let you know," she pauses to reconsider, offering, for perhaps the last time in what is looking to be a long while, "But people should not stop finding their own voice, and hurling it out, and voicing it."
Photography by Peter Tom Tolibas.