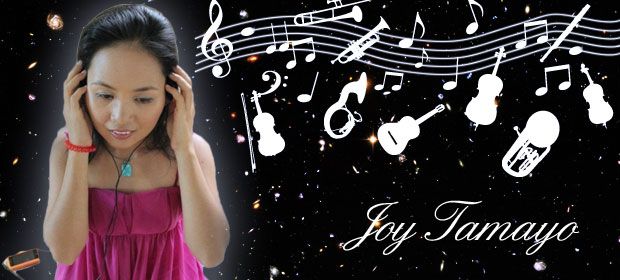 Music has always been a big part of Filipino culture. Even during the pre-Hispanic era, Filipinos had an intense passion for music and dance. Our musical culture was influenced greatly when the Americans arrived, as they brought in classical music, semi-classical, and popular music, among others. But among all these forms of music, classical music has produced some of the best talents that have made our country proud.We've heard of gifted choirs, musicians, and other composers that continue to get recognition in and out of the Philippines. Among the gems of our classical music scene, is a wonderful and brilliant soprano, Joy Tamayo.
Here, Joy Tamayo tells us, in her own words, her captivating story about her journey as a musician, and her dreams for her music.
A LOVE-SONG TO SONG
By: Joy Abalon-Tamayo
I have always been singing. As I navigate through the haze of years past to the genesis of my craft, I recall the endless amount of hours I've spent singing for everybody in my small town of Bacacay. At the foothills of the Mayon volcano and a stone's throw away from the Lagonoy Gulf, this locale of seasonal electricity and dramatic weather was my first stage.

At the tender age of four I was the de facto village singer. "Pakantaha na si bebe Joy" was all they needed for me to deliver my set list to anybody within earshot. Just the vaguest resemblance to these words was all it took--eyelashes unbatted - uragon na! Communions, baptisms, funerals, weddings, fiestas, and parties of local politicians... The conviction underlying every song that has ever left my lips knew better than to trifle with things like repertoire or accompaniment.

I loved to sing and people liked to listen. This simple formula propelled me to reach more people with song. I remember this time fondly because it was so pure, uncontaminated by the negotiations that would attend my later life as a professional. Sing. Just sing. Delineations: dress code, talent fees (soft drinks and Sky Flakes), venue and the like fell neatly in the category of peripherals. They could punctuate but never detract from my focus. Whether in a rice paddy behind my house or as an intermission number for some local beauty pageant mattered very little. Singing always made me soar beyond time and space, and if I was going somewhere, I was flying. What followed was kismet in the guise of the community of grateful ears. Through them jeeps were rented, costumes made/borrowed, singing competitions entered, ever-further towns arrived at. Then I landed in Legazpi City before a panel from the Philippine High School for the Arts in Los Baños.

This audition drew the first schism between where I was coming from and where I would be going. As fate would have it, my audition "pieces" were Barbara Streisand's version of All I Ask Of You and Love Me by Samantha Chavez. Raised brows and skepticism exchanged at my lack of awareness between art and Art. Details escape me now but I must have done enough because in no time I was Makiling-bound. (Things could've been different had I chosen my other favorite then--Debbie Gibson's "Lost In Your Eyes" instead of Streisand.)


My mind's eye sees two music camps in my life: one in Bacacay, and the other everywhere else. Both were permeated with music yet were such stark contrasts to each other. My Bacacay training involved countless hours of singing to my Dad's guitar accompaniment--anything from the Beatles to Matt Monroe to (our favorite!) Jose Mari Chan's hits. Nothing was scheduled. No one scrutinized. People could stop and listen if they wanted to or not, talk loudly or not. Very laissez-faire.

Thrust into the PHSA from Bacacay--a town where a newspaper meant a forty-five minute journey-- to note-reading, formal harmony, sight-singing and everything under the formal training rubric were, quite frankly, shocking. My introduction to the recital was as a performer first. It was trial by fire for a good long time. I was an ugly duckling anxiously waiting for my time to be able to mingle with my classmates who I felt were baby swans already. My old belt-when-in-doubt strategy would no longer cut it. Insecurity in me grew as my stock of songs--Brian Adams, Joey Albert, Whitney Houston--stood in feeble contrast to the names that were the currency in this new world: Chopin, Bach, Mozart et al. Despite this and the homesickness crushing daddy's little girl for most of my freshman year, I made deep friendships with people, adapted to the idiosyncrasies of Academe and above all, gave my singing a new platform for exploration. Vocal technique, the Italian language, English Art songs by Purcell made for a heady swirl from which I haven't quite recovered to this day.

Through some stroke of luck perhaps or just my innate stubbornness, I was voracious for all types of song. Through various scholarships I was able to continue my studies at the UP College of Music. I also discovered this thing called "gigs." "Let me get this straight", my thought process went, "I can get paid for what I love doing?" I remember thinking "get outta here!" but not long after it was all "BRING IT ON!" I was singing in churches, weddings, parties, etc. If not for my distaste for loud volumes, I would've indulged my love for the songs of Cobain and Vedder et al, in bars, too. Aside from a little make-up here and a little dressing up there, it was Bacacay all over again. But this time, for a bit more than Sky Flakes and soft drinks. Besides this new discovery and schoolwork, I joined all the choirs I could in U.P.: CRL Choir, Philippine Madrigal Singers, the U.P. Concert Chorus, and the Auit Vocal Chamber Ensemble. I joined the National Music Competitions for Young Artists or NAMCYA twice. I didn't win the first one, having mistakenly entered the category above my yen--a freshman against fourth year students and other NAMCYA vets. One of the panelists Joel Navarro commended me for my voice's agility, flexibility and timbre, projected very nicely and wished me better luck next time. The next time was in my last year in college, a portent of things to come. I signed up the right application forms this time and sang like I used to in Albay- with no worries. I landed second prize in a year where there was no first prize.

Things unraveled in much the same way since my time at the College. I sing and the grateful ears syndrome repeats itself. This particular phenomenon has brought me singing the world over, solo and more. Often I've wondered--how to repay all those who've helped me spread my love of song? Only recently it occurred to me-- the answer lies in the faces of people in the audience after I have abandoned myself to song in their midst.

*Joy is raising funds for her master's degree in New York this Fall 2012. If you want to be a part of the grateful ears phenomenon, watch her sing inBelle Nuit, A Benefit Concert - Saturday, the 14th of July, 7PM at the Church of the Risen Lord in UP Diliman, Quezon City. For donations and other details, contact joitama@gmail.com or #0915 204 1725.