Just recently, my friends and I had a very interesting conversation about Filipino boy bands. Do they even exist? Immediately, we ran through a mental list of "boy bands" that have come out in the Philippine music industry ever since. We came up with names like Hagibis, The Apo Hiking Society (who aren't exactly a boy band, but they made the list anyway), and the more recent Masculados and their overplayed songs.
This wasn't an exercise to elicit bashing the boy band image, but rather it was because of a mix of nostalgia and concern. Many grew up listening to bands like the Backstreet Boys and N'Sync (although one of my friends said that the first album he ever bought was a Metallica CD, so props to that guy). It was something to talk about with girls (admit it), and sometimes we even formed pseudo-boy bands of our own with everyone singing the melody (except that one guy who was a natural back-up vocalist). In short, there was a lot of fun that revolved around that one subject. Like them or hate them, boy bands have always been fun to talk about. And then I wondered, what would my own kids grow up listening to?
I decided to do some research on the state of Pinoy boy bands today through the best medium for everything pop: the radio. I then sifted through the pop music stations and refreshed myself with what was hot in the music industry. And I heard this song called "Prinsesa" by a "boy band" called VFort. I got a kick out of their song, so Rice Radio immediately contacted them to get to know the band called VFort a little bit better.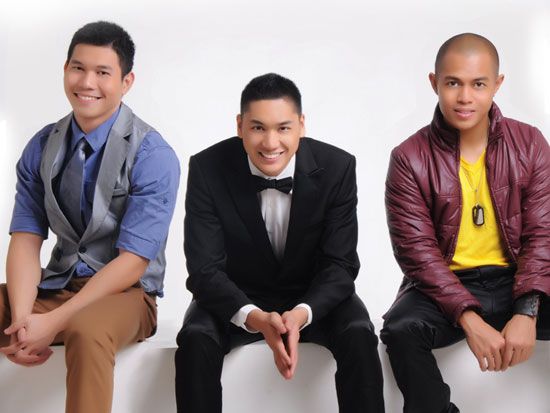 VFORT: (From left) Kerwin Caballero, Visam Arenas & Kristoff Guela
Rice Radio: There seems to be a lot of mystery surrounding how the three of you formed VFORT. Tell us more about VFORT and how you guys came together.
It was September 2010 when we joined an event called "100 Bachelors," a hallmark project of Vivre Fort Entertainment, Inc. that gathered 100 of the country's most eligible single men in one groundbreaking event for the perfect ladies' night out. It was in the same event when the three of us got picked to form a band. From then on, we were trained and honed as professional artists, and then started to progress into what you have now known as VFort.
Rice Radio: Your songs have a familiar OPM vibe in it that people really seem to connect to. Who are your influences when it comes to songwriting and performing?
The likes of South Border, Jay-R, Gary V, Martin Nievera, Side A, and True Faith, among many other OPM artists, inspire our music. Each and every song they have seems to be every Filipino's life and love stories. When your songs are closer to reality, you get to touch the listeners whose lives crave for an anthem, a redemption, or an inspiration, in 3 or 4 minutes. That's what we hope in writing and performing our songs – (that they're) real and raw.
Rice Radio: You guys have been able to sing in front of large audiences already. To what or whom do you attribute your success to right now?
We believe that success is not only a destination but also a journey, so I guess that the success that we have right now is dedicated to our Lord Jesus Christ who gave us everything that we have, to our parents, our family, our loved ones, friends, our fans whom we like to call our VFFs (VFort Friends), and also to the people who have yet to know about us. We hope that they all appreciate our music.
Rice Radio: Are there any future plans regarding you guys acting?
We have been so grateful that a lot of rare and huge blessings are coming our way. But, singing has always been our foremost passion. Acting may come in when opportunities pave the way to it. But for now, we're keeping our focus on music.
Rice Radio: What's your best memory while performing on stage?
KERWIN: Seeing the crowd smile with excitement and eagerness to see us, hearing them scream and applaud, and watching them crave to take some pictures with us are just few of the things I wouldn't forget after every performance. But the best delightful feeling is whenever we hear them sing our song with us.
TOFF: Every performance we've had is a memory for keeps. Those genuine smiles in the crowd simply give us delectable reflections after every performance. Playing MOA Arena or Araneta was as memorable as our mall or school shows because of that one common thing we always remember – our VFFs' smiles.
VISAM: My best memory while performing on stage would be seeing a large crowd in front of me at the Mall of Asia Arena when we opened for the concert of NKOTBSB (New Kids On The Block and The Backstreet Boys).
Rice Radio: If there's anything that you can contribute to the music industry, what is it?
Our love for OPM. Our songs are our way of sharing the hopeless romantic Filipinos' love stories with the world. It would be the love for music. The love for OPM. Being proud of being a Filipino and singing songs to inspire not just a few people but every single person who has a dream to someday become someone better than they are now, to reach their goals in life, and to show love and affection to others as well as themselves.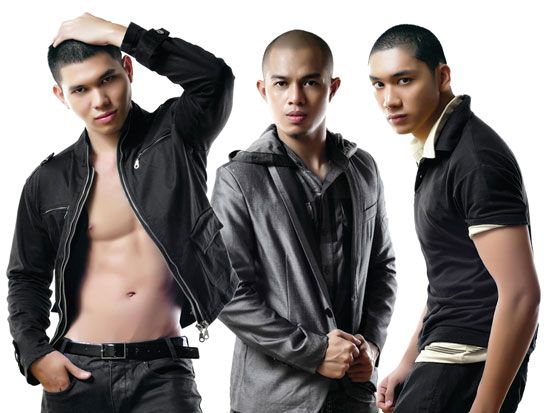 Rice Radio: Aside from being musicians, what are your hobbies? What takes up your time?
KERWIN: Right now, I'm still finishing school. I would go to the gym at least three times in a week. I also do modeling whenever I get the chance to squeeze it in my busy schedule. I usually spend the rest of my spare time by surfing the net, watching movies, playing with my dog, and painting.
TOFF: During my spare time, I work out, chat with our VFFs on Facebook and Twitter, play online games, read up news on the Internet, scan YouTube, do movie marathons, write songs, and given the luxury of time, I also accept projects for TV and film as an assistant director or a scriptwriter.
VISAM: I'm actually an athlete, so I like to play different sports like judo, swimming, billiards, volleyball, table tennis, etc. On most days I'm just at the gym working out. I also love to play games at arcades. I'm also into acting and modeling so sometimes I work as an actor/model when I have the time. I also go to church once or twice a week.
Rice Radio: What's your favorite video game and your favorite character?
KERWIN: I honestly never fancied playing video games, especially nowadays. But I remember playing Super Mario Bros. for some time during my childhood days.
TOFF: Today, it's Diablo III. And my heroes are a Barbarian named Tricia and a Wizard named McZardo. In the '90s, it was Super Mario, Chip 'n Dale, Rockman, and Super Sonic!
VISAM: My two favorite Playstation 1 games are Legend of Legaia and Final Fantasy VIII. My favorite characters are their main characters Vahn and Squall Leonhart.
Rice Radio: Where's your favorite place to hang out as a group? Is there any particular activity you like to do together?
As we go by our initials, K-T-V, singing along at karaoke bars is our favorite!
Rice Radio: If you guys weren't in the music industry, what would you probably be doing?
KERWIN: I would probably be working in an IT company, or managing a small business and still be able to continue a career in modeling.
TOFF: I would have been continuing my career as an assistant director and a scriptwriter.
VISAM: I'd probably still be in school studying Commerce/Business, being busy with my business, playing judo, modeling/acting, and I'd probably be more active in our church ministries.
Watch the official music video of VFORT's "Prinsesa" here.
Photos courtesy of Gio Bulanadi.