Davao City is sometimes confused as one of those war-stricken places down south. It's not uncommon for people from the north to get confused with the places in the south and vice-versa – it's just how it is. But if you do happen to be familiar with Davao City—including certain aspects like the Duterte Finger, the Sheriff who got knocked out by the Lady Mayor, the liquor ban and the anti-smoking Task Force, and with how disciplined the people in Davao City are—then you would most certainly develop a certain respect for this great city.
We focus our attention to one of Mindanao's proudest festivals: the Kadayawan. The term Kadayawan comes from a Mandaya's warm greeting,"madayaw," which is primarily used to point out something beautiful, valuable, and profitable. The Kadayawan Festival originally started when tribes living on the foot of Mount Apo would celebrate their bountiful harvest. This attitude of thanksgiving stuck and is most apparent in the celebration of Kadayawan, which is open to everyone to share with Davao's bountiful harvest. That is why Davao City has become a melting pot of different people from all over the world—from retired Americans who want to enjoy an easy life by the beach, to Manileños who are sick and tired of the bumper-to-bumper traffic and just want to go through an easy and breezy life.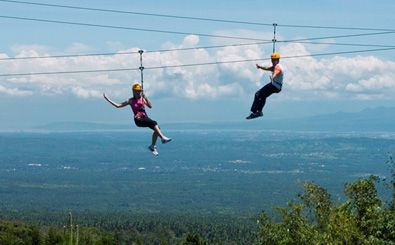 Must-visit: The Eden Nature Park
Soul-searching is very hard to do when you're living in a busy metropolitan city. Davao's pride does not consist of its corporate and industrial successes, but of how this city gives opportunities to its residents to balance out their lifestyle. An excellent example of this is Davao's premiere park: The Eden Nature Park.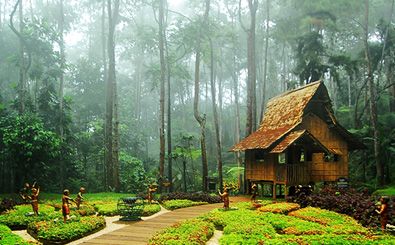 Eden is a beautiful place where you can reconnect with nature to help you de-stress and recharge. With its organic vegetable and fruit gardens, its quiet cabins where you can rest and relax, and its many facilities that give you the opportunity to relearn classic Filipino games, Eden gives you a different and yet exciting chance to find the grounding you might need for the year ahead.
For more information on what you can do for your getaway, click on this link to Eden Nature Park's Website.
Where to stay: The Green Windows Dormitel
If you are looking for a cheap but decent place to stay, then the Green Windows Dormitel is one of the best places for you. Not only does it have great and clean rooms, but it also provides you with package tours that you and your family or barkada can avail of during your stay. Not far from the heart of the city, the Green Windows Dormitel is situated such that people who stay there could go to different places that are one jeepney ride away. You can also rely on the fair and hospitable taxi drivers roaming around the city to bring you to wherever you want to go. Click on their website to get the rates and other details!
Where to party:
Torres
This crazy venue originally consisted of just a few beer shacks that served ridiculously cheap below-zero beers. It didn't take long for it to transform into one of the most-visited venues in the city. If you haven't been to Davao, it is always best to have a friend to aid you in this endeavour. It is one of those places where an "inside man" could be useful for a grand time, so it would be advantageous if you knew a local who frequents it.
Jack's Ridge
If you are looking for a serene place to grab a few beers, then Jack's Ridge is perhaps one of the most ideal places to go. As its name suggests, Jack's Ridge is located on top of the Shrine Hills in Matina, and offers an amazing view of Davao City. It is a great place to unwind from a day filled with activities, and you just want to sit back and enjoy the view. Jack's Ridge also has a number of resto-bars where you can order food and enjoy the company of your fellow travellers.
Matina Town Square
Matina Town Square, or MTS to the locals, is a collection of bars situated in a laid-back, park-style open space. This is the hub of all of Davao's celebrated artists, and is the most sought-after venue for events. Davao City is renowned to have cultivated a number of solid Filipino artists, not only in musical composition, but also in painting, sculpting, and others.
Where to Eat:
Taps
If you are a fan of tapsilog, then you should not miss the chance to eat in Taps, or else you will not hear the last of it from Davaoeños. Taps offers all kinds of -silog meals served in a home-cooked style that will make you want to visit over and over. Cheap and delicious at the same time, Taps is sure to cater to your tapsilog cravings and make you want to come back for more. It may not be the best tapsilogan in the country, but it is one of the most beloved because of its consistency and the wide variety of meals to choose from.Just the process of choosing what to order is an experience that all travellers should be subjected to. You have to try it!
Penong's
Another restaurant that you should try is Penong's Chicken House, where the Davaoeño's passion for unlimited rice began. This non-air conditioned restaurant with waiters who are required to have a semi-upaw hairstyle is an establishment that all visitors should visit. The magic of Penong's really happens when you want a rice refill for your plate; you are required to clap your hands twice to grab the attention of the waiter carrying the rice containers. The food is classic Filipino-style barbecue, mixed with a certain Davao taste that you can only experience here. Not only is it cheap, but it also really hits the spot when you're ready to eat like it was your last meal on earth.
What you shouldn't miss:
The most popular events that you shouldn't miss are the Indak-Indak sa Kadalanan and the Pamulak sa Kadayawan, which are two very huge productions that invite all sorts of people to witness the creativity and majesty of Davao culture.
Indak-Indak sa Kadalanan is a joyful street dancing parade that passes through the major thoroughfares of Davao, and culminates in a grand showdown in the Rizal Park Area. This will happen on Saturday, August 18, at 8:00AM. The Indak-Indak is perhaps one of the most heated competitions in the Kadayawan Festival as it showcases excellent street dancing from different regions/barangays in Davao City. Make sure to have your cameras ready and be early to pick a good spot!
Pamulak sa Kadayawan is an awesome parade of floral floats from all over the region. Categories are divided into two: the competing and non-competing entries, both of which will be showcased at the city's major thoroughfares. This event will happen on the day after the Indak-Indak,which is on August 19, Sunday, starting at around 7:00AM. Make sure to bring enough water and umbrellas for the heat and get your cameras ready!
Davao City is one of the proudest cities in the Philippines today. This is not because the people from Davao think they're better than the rest, but rather simply because they know just how awesome their city is. If you're planning on visiting any city in the Philippines this month, then make it Davao City. I guarantee that you will be amazed at how easily you can fall in love with its people, its culture, and the energy that the city gives off. You just might end up planning your retirement here!
Madayaw and have a safe trip!
Photos courtesy of Coey Punsalan, Eden Nature Park, and Blues Marquez Photography.