Lito Molina has earned for himself the distinction of being dubbed as the Father of Philippine Jazz by critics, writers, and musicians alike. He established the Philippine Jazz Foundation and promoted the propagation of the History of Jazz in concert form. Aside from being a gifted musician, he is also a writer par excellence, having been a music columnist for various Metro Manila dailies since the early 1970s. When I spoke to Lito over the phone to schedule this interview, he requested that it be held at his home sometime mid-morning, which for him meant 8AM. For breakfast we had bananas and black coffee. He said then that this would be the last interview he would be granting. That was on June 19, 1999. Exequiel "Lito" Molina left this earthly life on March 5, 2003. His wish to have his passing celebrated with a jam session was honored at the Trinity Chapels in Sucat, Parañaque.
Recollection of 1945: Liberation Time in Manila
"Bebop started coming in during the end of the Second World War. We heard it, liked it, but really didn't know what it was. The likes of Duke Ellington, Charlie Parker, and Charlie Ventura on tenor sax were the more popular names that we would hear over the radio. I was just a listener then and would fiddle around with the alto sax, dreaming that one day I, too, would be able to sing like a bird on the sax.
"I started jamming around with Piding Alava when we were still wearing short pants at the Mapa High School along San Rafael Street in old Manila. What we were playing was not jazz; it was more commercial. We started playing for dances as an alto-sax-and-piano duet and we played a lot of American tunes like 'I'll Walk Alone,' which was popular with the G. I. s. During those days there were many nightclubs and every one of the venues had live music, because there were no jukeboxes and no electricity as well. It was an acoustic instrumentation setting consisting of piano, upright bass, drums, sax, and, [on] many times, vocals."
Your father, National Artist Antonio Molina, was a traditional musician who played cello and was better known for his compositions like "Hating Gabi" and "Filipino Serenade." Was there ever any difficulty in him being a traditional musician, while you a budding jazz musician?
Lito Molina: Before I answer your question I would like to share with you a little [story] that my father told me as a little boy. Many years before the last war, my father and his classical group performed for some time in a French Hotel in Hanoi, Vietnam. According to my father the manager of the hotel was so impressed with a piece he wrote called "Quintet in C major" that he asked him to continue writing masterpieces, [assuring him] that there would be an audience to appreciate his music. It was this incident that inspired my father to write music seriously. Towards his last years the majority of his works were for chamber groups. And maybe it is these chamber groups that led me to enjoy small jazz groups such as quartets and quintets.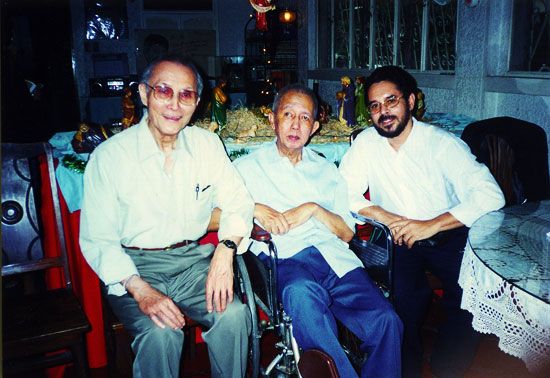 [Photo] The author with maestros Angel Peña and Lito Molina at the comfort of Lito's home in December of 2002, a few months before his passing.
Now to go back to your question. No, there were never any problems between us in as far as musical styles and preferences are concerned. In fact he allowed me to be a free spirit and left me alone to discover my own music. He thought that jazz was just for fun. I grew up in an atmosphere of music and my dad would take me around with him to his rehearsals and performances. This is where I got my early training in discipline to practice on my instrument to a point of fanaticism. Although he didn't put any controls on me, I took it upon myself to master my instrument with him as the role model for dedication and perseverance in the art form of my choice, jazz.
What was the earliest group that you played jazz with? And what followed?
L.M.: A tenor sax man by the name of Jacobe would bring his big band from Lumban, Laguna to Manila to gig every now and then. Upon visiting my dad's house one day he chanced upon me practicing on my alto sax and asked me to join his band as there was an opening for a third alto sax player. I agreed and was excited. We started playing the pre-war arrangements or stock charts. My father noted that it was coincidental that the name Jacobe is also the name of a great classical violinist.
I was playing nights with the Jacobe group [from] Lumban when Mapa High School reopened. Piding Alava and myself started to gather musicians with an interest in jazz. We had violinists, and a bass player by the name of Felix Velasquez joined in. We considered it a luxury to play with a drummer. We called ourselves the Mapa High School Orchestra and stayed intact 'til 1948, the year we graduated. Piding was the arranger and we played a lot of music from Glenn Miller's Big Band.
Sometime in 1949 I joined the Pete Aristorenas Band with him on alto sax and his brother—and brains of the group—Narding on tenor sax. Narding was considered as the Glenn Miller of the Pacific, and this prompted me more into playing jazz for a respectable living. We played swing at the Opera House. During fiesta time we would tour the provinces. [We were really happy then.] People were a lot simpler then, and it was a time when fun was for real. Competition was stiff. There was Asyong Mamaril's orchestra, Tirso Cruz's band, and Dr. Tioco's band. This was when I first met the Tuason brothers, a family of talented musicians that were made up of Bading on piano, Vicente on trumpet, Tomas on alto sax, Tony on tenor sax and violin, and Manuel on bass. Their father Eriberto Tuason was a band leader who played the sax and played banduria for a rondalla that he headed. The Luxury Liner Empress was his home for many years. His daughter Josefa, or "Pit," ended up being my wife while her five talented brothers became my barkada.
The Ilaya orchestra was another group that performed around the town. The bandleader owned the Ilaya music store along Raon Street and was one of the largest suppliers of musical instruments. They had a steady supply of stock arrangements that were cheap [at] PhP2.50 per chart, and were easy to read and play. The Eddie Montes Big Band was another group and they played regularly at the Sta. Ana Cabaret. Tony Tuason, my brother in-law [whom] I mentioned earlier, played sax and violin.
In 1950 I joined Dr. Tioco's band where I met Romy Katindig for the first time. We would make the rounds of the fiestas in the months of February to May and were shuttled around in a chartered bus. We had a big band sound and the audiences were thrilled to hear jazz since these towns were mostly quiet for the rest of the year.
Jazz@Heart is a bi-monthly series that will feature over 44 one-on-one interviews conducted in person, by telephone, and by e-mail from 1999 to 2010 by musician-author Richie Quirino. These interviews were lifted from Quirino's three books: Pinoy Jazz Traditions (2004), Mabuhay Jazz: Jazz in Postwar Philippines (2008), and Contemporary Jazz in the Philippines: From 1970 to 2010 (2011), all published by Anvil. The interviewees in the series all hail from a wide array of diverse backgrounds, and they come not only from the islands but also from such far-flung big cities as London, Tokyo, Hawaii, Los Angeles, and New York. Jazz@Heart provides a rare glimpse into the inner minds and hearts of extraordinary Filipino musicians. These touching stories all reveal a distinct love for the art form and now speak as one voice: the voice of Pinoy jazz.