Lito Molina has earned for himself the distinction of being dubbed as the Father of Philippine Jazz by critics, writers, and musicians alike. He established the Philippine Jazz Foundation and promoted the propagation of the History of Jazz in concert form. Aside from being a gifted musician, he is also a writer par excellence, having been a music columnist for various Metro Manila dailies since the early 1970s. When I spoke to Lito over the phone to schedule this interview, he requested that it be held at his home sometime mid-morning, which for him meant 8AM. For breakfast we had bananas and black coffee. He said then that this would be the last interview he would be granting. That was on June 19, 1999. Exequiel "Lito" Molina left this earthly life on March 5, 2003. His wish to have his passing celebrated with a jam session was honored at the Trinity Chapels in Sucat, Parañaque.
When did you switch from big bands to smaller and more intimate group playing?
L.M.: It was around 1952 when the shift from big-band playing turned to smaller and more compact groups. It was easier to handle and manage a smaller group although more challenging for the musician because you would have to fill up more space.
I formed a quartet with Bading Tuason on the keys, Angel Peña on the bass, and Tony Velarde on the drums. We played at the Café Indonesia and would jam around a lot and would practically play for free.
In the late '50s I was in a band that was named after whomever was the leader. It was like playing musical chairs: whoever got the gig and organized the band had the privilege of using his name for the band. We played mostly in Sangley Point in Cavite, a U.S. base then. Our singer Dulce Din was half-Indian, and we considered her to be the best jazz singer of her time. Up to now we still talk about her. Vicente Tuason played trumpet with this group.
When was your first taste of playing overseas?
L.M.: As early as 1952 I went to Tokyo playing with a group called The Latin Quarter. Bimbo Danao, who was already a minor celebrity [then], was our singer. Tokyo really opened my eyes to jazz. The city was very cosmopolitan and the Japanese really appreciated Filipino musicians that could play jazz. We were respected as artists.
Many years later, in 1964, I joined my brother in-law Bading in Hong Kong playing at the Hilton for a year. When Bobby Enriquez was still a young man, he would find the time to study with Bading and absorbed a lot of techniques in piano playing.
What were the '60s like for jazz musicians?
L.M.: There were a lot of activities and opportunities for jazz musicians then. In U.P. Diliman, the Upsilon Fraternity sponsored several yearly concerts. This featured an all-star big band and the venue was at the U.P. Gym Quonset hut.
The all-star line-up had Picoy Villapando on baritone sax, Domeng Valdes on alto sax, Narding Aristorenas on tenor sax, Muring Vicuña on first trumpet, Neo Ragas on trombone, Angel Peña or Johnny Gonsalves on bass, [and] Tony Velarde on drums, [while] Priscilla Aristorenas, Nelda Navarro, and Dulce Din were all on vocals. The concerts were full and were very successful for the organizers.
Also in the '60s my small band would do the rounds of the hotel circuit. The Hyatt, Hilton, Sheraton, and the Manila Hotel were supportive of jazz, and my band enjoyed playing in these tourism venues where foreigners could view Pinoy jazz musicians at their best.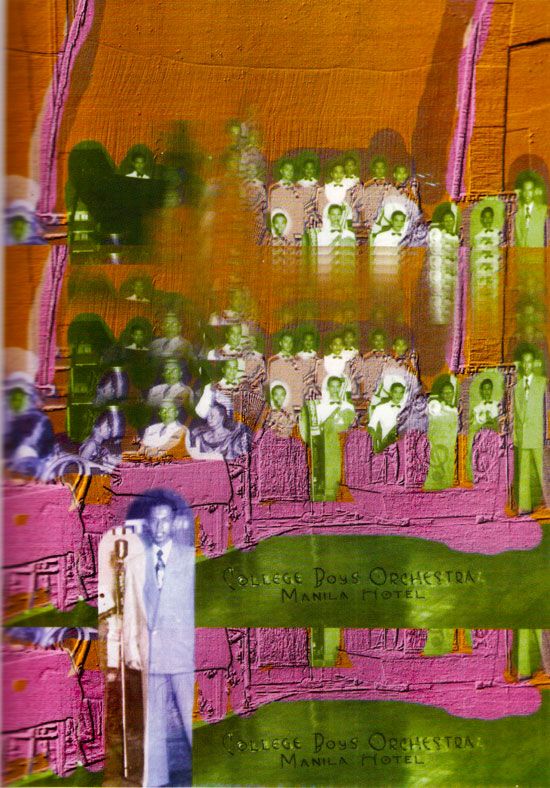 [Photo] One of the earliest photos of Lito Molina taken at the Manila Hotel circa 1948 with him leading the College Boys Orchestra. Photoshop digital art by Glenn Bautista and Tiny Nuyda.
We did a recording with TonVel records, the label of Tony Velarde. The L.P. had one original called "Tony Speaks." The album had Angel Peña, Domeng Valdes, and Pete Aristorenas arrangements of folk songs and native themes in a jazz setting. Aside from being tasteful arrangers they were very good improvisers.
The Thomas Jefferson Cultural Center would also sponsor yearly concerts and would bring in American jazz musicians for clinics and lectures. It was also around this time that the musicians' wives club was formed. The purpose was to meet once a month to discuss ways and means of raising funds. Minimal contributions were to be collected, but when the time, came no one paid. For the club to be successful, it required a strong educated leader with good organization skills and a lot of money to spare.
And likewise the '70s?
L.M.: It was in the '70s when I started to write as a music critic for the major dailies like The Manila Times, The Chronicle, The Evening News, Business Day, and The Daily Mirror. Writing was my second love, and I wrote about my first love: music! When Tony Velarde left for the U.S., I continued with the band as its leader. In the '70s the hotels that we played in were the Manila Peninsula, the Concourse Lounge of the Manila Garden, and the Cusco Lounge of the Ramada.
I noticed a picture of you in your living room playing on the mouthpiece of a clarinet. What's the story behind this picture?
L.M.: That was the climax or shout chorus in the song "When the Saints Go Marching In." I would start off with the whole clarinet, removing piece by piece until only the mouthpiece remained, playing very high notes. Then Neo Ragas would join in playing his trombone with his feet. To add more humor to our show Picoy Villapando, who played the baritone sax, looked funny because he was actually smaller-looking than his instrument. All in all, we had fun playing for an audience that would cheer us on for more.
With the year 2000 just around the corner, what do you think Pinoy jazz needs to meet the challenges of a global market?
L.M.: More sponsors for jazz on T.V. and radio. More clubs and venues that feature jazz artists on a regular basis. More support from schools like U.P. and U.S.T. that should have programs for beginners and professionals. More money from the government through the Department of Tourism, the Cultural Center of the Philippines, and the National Commission on Culture and the Arts.
Even in the States, musicians there have a hard time making ends meet. Woody Herman had difficulty paying for his taxes that his house was going up for auction. People and friends chipped in and raised sufficient funds to pay off his debt. This is real support in time of great need. Maybe the B.I.R. could exempt or give substantial credits to struggling musicians and artists. We need action and not only bright ideas. We need legislation and new laws to adapt to present and future realities. We need a lot of research so that composers and arrangers can tap local ethnic rhythms and melodies to incorporate them with western jazz influences. NGOs and private philanthropists should donate money to jazz foundations for the purpose of spreading and disseminating jazz music to wider audiences. Again, actions speak louder than words and I wish I was 30 years younger, so I could help make these dreams for the younger generations come true.
Jazz@Heart is a bi-monthly series that will feature over 44 one-on-one interviews conducted in person, by telephone, and by e-mail from 1999 to 2010 by musician-author Richie Quirino. These interviews were lifted from Quirino's three books: Pinoy Jazz Traditions (2004), Mabuhay Jazz: Jazz in Postwar Philippines (2008), and Contemporary Jazz in the Philippines: From 1970 to 2010 (2011), all published by Anvil. The interviewees in the series all hail from a wide array of diverse backgrounds, and they come not only from the islands but also from such far-flung big cities as London, Tokyo, Hawaii, Los Angeles, and New York. Jazz@Heart provides a rare glimpse into the inner minds and hearts of extraordinary Filipino musicians. These touching stories all reveal a distinct love for the art form and now speak as one voice: the voice of Pinoy jazz.