Ruby Ibarra isn't a household name in the Philippines—not yet—but her Lost in Translation mixtape has been featured on Yo Radio twice in as many months: on the day of its release, and again when I mentioned it as one of my Top 10 picks for 2012.
Though I maintain that 2012 was a great year for Philippine hip-hop, the fact of the matter is that the only local artist on that list is Gloc-9, and Ruby Ibarra's mixtape is one of only two included Filipino-American releases (the other being Bambu's …one rifle per family). I do tend to favor Filipino hip-hop in English, but there must be more to why Ruby Ibarra's Lost in Translation caught my attention and held it long enough to stand against the best of what 2012 had to offer. What is it about Ruby Ibarra? Pinoytuner talks to the petite and charismatic hip-hop artist to investigate.
Twenty-four-year-old Ruby Ibarra was born in the Philippines but raised in the United States. "I immigrated to California with my family when I was about five years old," she says. When asked about why she got involved with hip-hop in the first place, she answers, "With rap music, I feel that I've found what I'm good at, and most importantly, it's an interest that makes me the happiest." She waxes poetic as she explains the significance of hip-hop in her life. "I've always viewed hip-hop as education because essentially—I know personally, for me—2Pac was one of my teachers growing up."
While she has been studying, writing, rapping, and performing spoken word for a long time, Ibarra only recently started to pursue a professional music career. She muses, "A little over a year ago, I finally decided to take music seriously." Ibarra pinpoints the motivation behind her increased investment of time and money in music, adding "I noticed my YouTube videos were garnering a greater amount of views and that I was beginning to book shows outside California."
Doing all of this as a solo artist may seem difficult, but Ibarra is thankful, saying that she is "grateful to have started my hobby amongst a very supportive group of friends and community of fellow rap artists." This leads to discussing the Asian-American hip-hop community, of which she says, "The visibility of Asian-American artists in general is still in progress, but it is going in the right direction. YouTube has played a vital role in giving Asian-American artists a platform, and more importantly, it's showing the entertainment industry that there is an audience for these artists."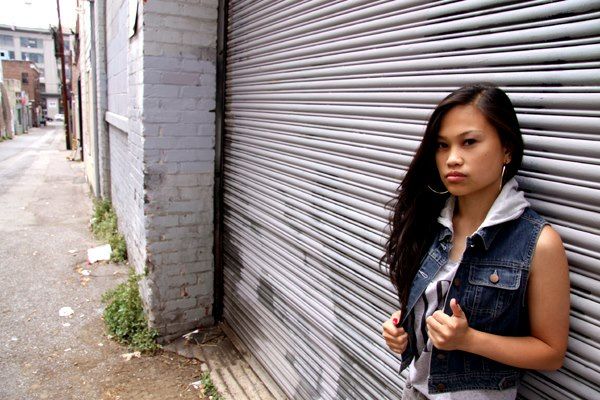 Ibarra is, of course, speaking from experience, as someone whose YouTube channel has amassed over 6,500 subscribers. That same experience is what fuels her next statement, which is surprisingly relevant even in the local landscape. She declares, "I feel that using ethnicity as a subgenre in rap may hurt the progress because there is no need to segregate: rap is rap. If we continue to separate rap artists in that way, then it may inevitably lead to them never being heard." It is this unrestrained proclamation that gets to me. This is why I like Ruby Ibarra so much! There's more than just talent here; the girl is on fire, and she knows it. As if to add kindling to the flame, she interjects, "It is like the 'female emcee' description, which suggests a handicap." What remains unsaid is her defiance of that alleged inherent disadvantage.

When asked about Lost in Translation, Ibarra shares, "I knew that I needed and wanted to release a body of work that showcased my abilities and diversity in songwriting." She says that that the mixtape was finished on schedule even though it was hard for her to find time for it, in between doing shows on the weekends and working a full-time job to pay her bills. According to Ibarra, the mixtape serves as an introduction to who she is. The title, she says, refers to the fact that she is fluent in more than one language; she notes, "I'm bilingual and sometimes rap in Visaya or Tagalog in addition to English."
Though Ibarra is currently promoting "Nonconceptual" from Lost in Translation, her favorite track is the upcoming single "Guess Who," for which she recently released a video of an acoustic version. She discloses, "Before this track, I wrote and released a lot of songs that were primarily aimed to display my lyrical abilities: wordplay, flow, rhyme schemes. However, when I wrote 'Guess Who,' I was particularly proud because it was a track that had a story, and was a positive song for young women." She cites Lauryn Hill and 2Pac as musical influences whose songs have always been inspiring and relatable, and goes on to affirm that she wants to be on a similar tip, enthusiastically stating, "I want to create a balance between being lyrically witty and evoking an emotion."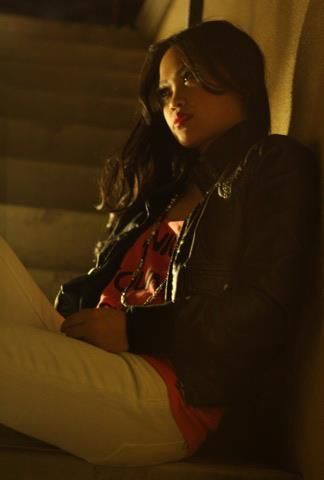 Upon the mention of her musical influences, we ask what she's listening to these days; she gamely replies, "These are the artists that are currently in constant rotation in my car: Kendrick Lamar, Joey Bada$$, Wu Tang Clan, Lauryn Hill, Hov, Kanye, and Eminem." When asked about our local hip-hop, Ibarra gets down to the nitty-gritty of it. She digresses, "I am very happy to see how much the hip-hop community has grown in the Philippines. FlipTop of course has been a significant factor in that growth, and I always watch those rap battle videos. I'm also happy to see a lot of new rappers getting some shine because a lot of them have so much talent. Saludo ako sa kanila!" Though she doesn't mention local artists on her regular playlist, she does bring up listening to Gloc-9, and talks about who she is working with at the moment. "I have worked with Rjay of LDP; we did a track with Jonan Aguilar and Yumi for his mixtape back in 2011. I'm currently working to finish another collaboration with Rjay, as well as a new one with Skarm from FlipTop and the Pharm."
The conversation leads to upcoming events, and Ibarra talks optimistically about promoting her mixtape. On February 28, there will be a Lost in Translation Mixtape Release Show at the Sol Collective in Sacramento, CA; the official music video of "Guess Who" will be previewed then, and released online the following day. On March 8 and 9, Ibarra will be at the Midwest Fil-Am Summit at the University of Wisconsin–Madison. Ibarra is wistful when we ask if there are any plans for her to visit or do a show in the Philippines. "To perform in the motherland would be a dream come true," she says. On a lighter note, she adds, "We actually have a family reunion in July, so I hope we can go back home this year."

Finally, we asked her for any advice that she can give to aspiring musicians. "Be honest and always practice," she began. "Your only competition should be yourself, your only goal being better than the artist you were yesterday. Don't sacrifice your creativity for anything. If you keep doing you, then you will excel in your craft and people will eventually take notice."
Wise words from a 24-year-old! To be frank, upon multiple listens I found Lost in Translation to be a fantastic debut, but no 5-mic classic. She's right when she says that her mixtape is an introduction to who she is. What shines through, more than the songwriting and the performance and even the tracks themselves as finished products, is Ibarra herself—the fire, the thirst and that certainty of greatness that you can hear in her voice. In time, Lost in Translation might pale in comparison to other mixtapes, but by then, firecracker that she is, Ruby Ibarra may very well have moved on to bigger and better things.
Photos all culled from Ruby Ibarra's official Facebook page.