The Spoken Herb Festival is an annual gathering of local musicians that celebrate various genres of music and art ranging from Abstract hip-hop, World Rhythms, New Jazz concepts and dub diversions. The event serves as a platform for artists to explore their artistic boundaries: To create, innovate and improvise. The Spoken Herb is an exchange of new ideas and concepts in music and art. More importantly, it's for artists to showcase their talent and help educate our younger generation by exposing a diverse range of creativity in a context that is Filipino.
This year's Spoken Herb Festival will be held at Sarten Café in Antipolo City on Saturday, June 2, 2012, from 12 noon onwards. Lined up to perform are:
AKLAS / AUSPICIOUS FAMILY / BENT LYNCHPIN / BIG ANSWER SOUND SYSTEM / CALIPH8 / CHOCOLATE GRASS / CJ WASU AND FRIENDS / DANNY SILLADA / DATU ALIMUWAN / DJ PETER JAY / DJ UMPH / GURM / INDIGO / IYO-IYO / JAMES PAUL ESGUERRA / KONTRA-GAPI / LOURD DE VEYRA TOTAL WRECKAGE ENSEMBLE / LOW LEAF / OBRA MAESTRA / PASTA GROOVE / RED-I / SAPIENCE / SHANT VERDUN / SIMILAR OBJECTS / SLOJ / OUTERSPACEWAYS INC / SUPREME FIST / TAD ERMITAÑO / THE WATCHTOWER / UNMESSABLE / YOUNG WON / ATBP.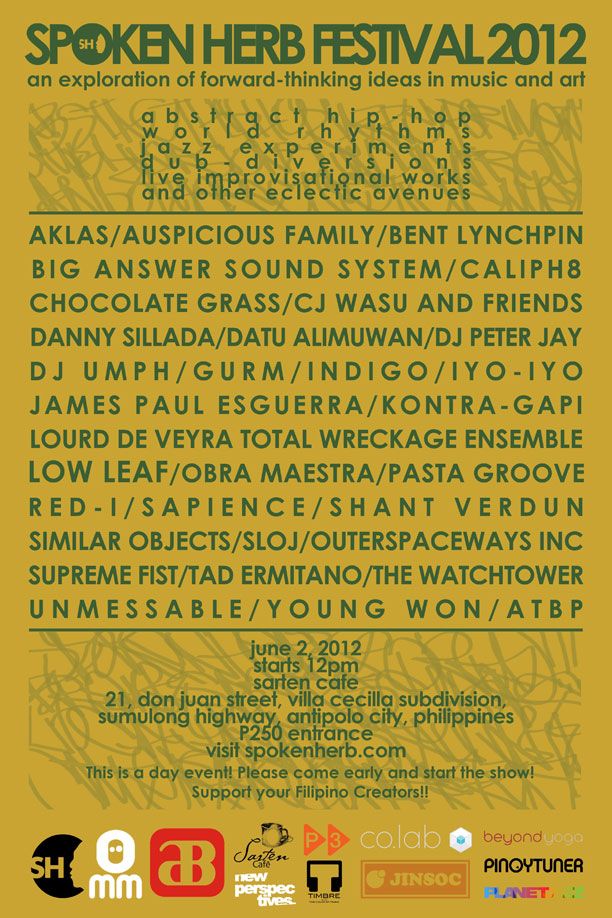 Saturday, June 2, 2012; show starts 12:00pm
Sarten Café, 21 Don Juan Street, Villa Cecilia Subdivision, Sumulong Highway, Antipolo City
P250 entrance
Visit http://www.spokenherb.com/ for details and updates.