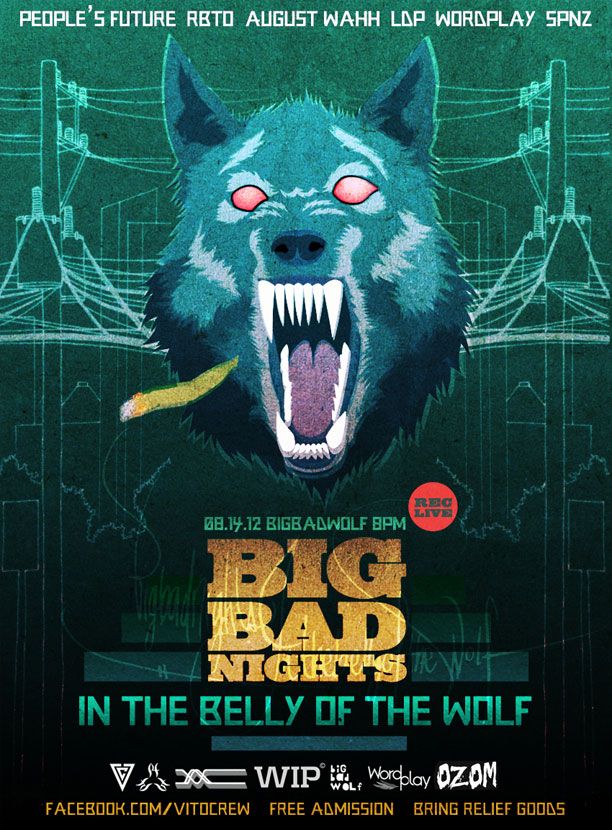 Join us on August 14, 2012 at 8PM as VITO CREW launches Big Bad Nights in the Belly of the Wolf (Tuesday Nights at Big Bad Wolf)! Free admission!
With performances by:
PEOPLES FUTURE
RBTO
AUGUST WAHH
LYRICALLY DERANGED POETS (LDP)
WORDPLAY
DJ SPNZ
Live recording by OZOM Productions and VITO CREW for PF Radyo! Thanks to Wipcaps, Caution Clothing Co., and Soulfiesta, Radio Republic, and PinoyTuner!
We will be collecting relief goods at the event to aid those affected by this crazy mother of a storm. Canned goods, blankets, dry clothes and underwear, toiletries, bottled water, and the like are much appreciated. There will be no door charge at the event. Let's use what we save to cop a couple of cans before coming through (That doesn't seem so hard now, does it?). Let's help our brothers and sisters before we have our fun. Thanks and see you!
Venue: Big Bad Wolf
G/F, Fairways Tower, 5th Ave. cor. McKinley, Bonifacio Global City, 1202 Manila, Philippines
Happy hour is from 3PM to 7PM, with beer at P35 each!
http://www.facebook.com/pages/Big-Bad-Wolf-PH/125412520885161

For inquiries/reservations:
+639154523503
sisalleses@gmail.com

Vito Crew (VC) is a collective of talented, young people all hailing from the neighborhood of Vito Cruz, Manila. The group originally started as a skate crew in 2006 but grew into a lush talent pool and extended family of skaters, artists, entrepreneurs, musicians, and much more. Requirements for membership are simple: You must have been once a resident of Vito Cruz (or at least frequent the area), possess skill, and excel in your respective field.
Vito Crew's artists have been active in the local music scene since 2006, playing regular gigs and large festivals, independently producing and distributing music, artists, albums, and relevant media.

LIKE VITO CREW ON FACEBOOK!