TIGASOUTH X THEDRUGGEDZOMBIE present:
UNITED SOUTH Music and Arts Festival
Saturday, April 14, 2012, 3:00pm
South Bar, Talon II, Las Piñas City
P150 entrance with one (1) free drink
UNITED SOUTH Music and Arts Festival will feature various artists, musicians and merchandise from the south, plus guests from other parts of the metro as well. The event will run from 3pm onwards. There will be booths, a wall projector that will feature independent films, art exhibits and contests, a merchandise expo, and live performances in the evening.
UNITED SOUTH is an event created to start a music & arts movement in the south. It's about time people took notice of us, of our capabilities and talents. It's about time people went down south and experience what it's like to be a proud southerner. UNITED SOUTH's main goal is to be at the forefront of all of this burgeoning southern movement.
With live performances by:
PARAMITA // BLUE BOY BITES BACK // BACK ODAT
Plus: Zaito, Constraint, Damnsa, An Army Of One, Ice Rocks
Call Us Garney, Blade Sheathe, Fherrond, Ray Mojado
Sucketseven, Abencoe, Roma
Live Art Sessions:
Cavity Collective // Garapata
Short Films:
Rocket House // Cult Shit
Merchandise:
TigaSOUTH (Alabang) // Doodled Tees (Paranaque) // Rise of Brutality (Paranaque)
GudVibes (Cavite) // Dirty Ice Cream (Paranaque) // Paper Monster Press (Cavite)
Oohkay (Las Pinas) // Tribe of Tees (Manila) // The Unseen (Manila) // FY Shirts (Manila)
Raffle prizes from:
Draven Footwear and Sennheiser Philippines
Early birds get a FREE copy of Clavel Sneaker Magazine!
ALL THIS FOR ONLY P150 a ticket! All tickets come with a one (1) free drink stub!
SIGAW ONE SOLID SOUTH!

Pre-event party (April 7 @ Last Home) poster: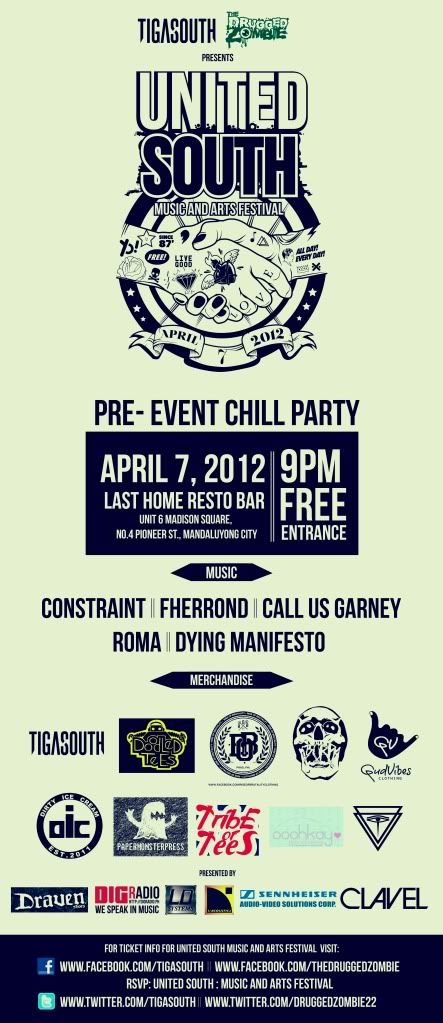 Check the Facebook event page for more updates.