In recent years, there has been a notion that Original Pinoy Music was dying. Others blame it on the Filipino's choice of music nowadays. With the widespread availability of foreign artists in the market, more and more Pinoy bands and artists are getting the cold shoulder from Filipino listeners. And with the rampant attack of piracy, coupled with the seemingly declining trend in the music industry, it is no surprise that a lot of people came to this conclusion.
The struggle and the visionaries
For a time, Filipino music has been struggling because of it. But for a lot of Pinoy musicians in the scene today, this is not the case. Filipino music was never dying; it was just being overlooked. And with the leadership of Jun Sy and the vision of Twinky Lagdameo, Pinoy music has been given an avenue where it can be celebrated. And with RadioRepublic.ph, they plan to bring back Pinoy music to its former glory.
What is RadioRepublic.ph?
RadioRepublic.ph is essentially an online music source where listeners can access streaming original Filipino music of all genres. Although it is not the same as some online music sources that are available today, it is, however, an approachable venue for local songwriters to get their music out there. This solves a great problem that a lot of Pinoy artists are struggling with today: how to get their music heard. And with the broadest and one of the most available platforms that is the Internet, Pinoy music can potentially be heard even in the most far-flung corners of the world.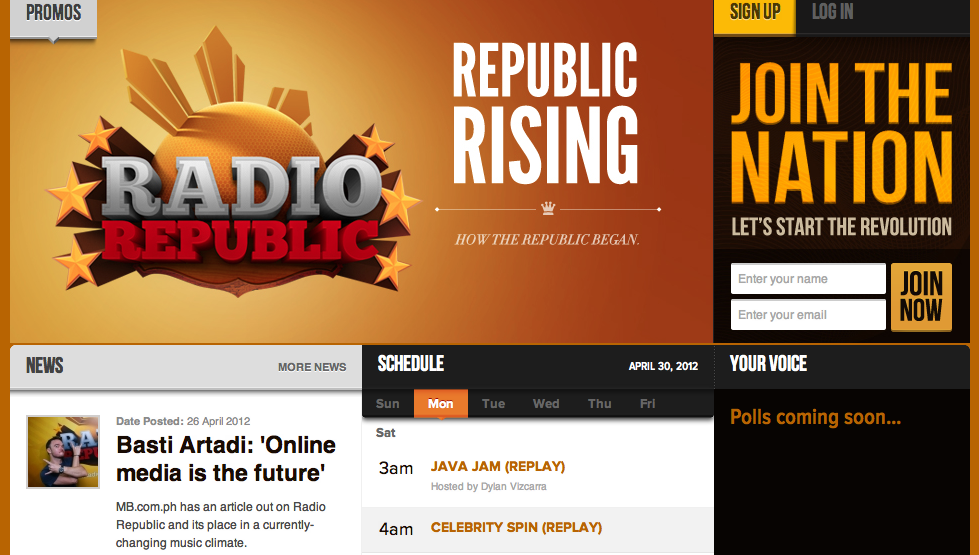 Growing strong
Filipino musicians have been due the recognition that they deserve. Although a lot might say that home-grown music is dying, it is only because we never really giveour own artists a chance. But with institutions like RadioRepublic.ph, the future of local music is indeed getting brighter by the day. RadioRepublic.ph has been launched just recently,and its vision to go even farther and reach more people is inspiring. Hopefully, this opportunity would be maximized by more artists out there that have yet to be discovered. And given the time, effort, and commitment, RadioRepublic.ph has the potential to be one of the biggest sources of original Pinoy music in the country.
CHECK THEM OUT: http://www.radiorepublic.ph