I've seen Ely Buendia's public persona morph like a thousand suns. And by that I don't mean that I've kept track of the colossal shifts in his wardrobe, or that I've privately mapped a tangled history of all the hairstyles he's sported throughout his storied career. In short, I don't mean to refer to his appearance, but, rather, how he appears as a personality: how he receives his fans, how he fields questions about his former band, how he addresses demands to perform his best-known works. All of this—despite still being an active music creator—and trends be damned. He's told me in the past that he has finally embraced what the Eraserheads have become in popular culture, and would rather not fight how his work with them is viewed by the larger public. Damn, I've seen him get stopped in mid-mall-stroll, a baby thrust into his arms for a photograph, a scene you'd typically imagine involving politicians. When he was in the middle of all that '90s media frenzy, a soft-spoken twentysomething whose chops were anchored on various fashions—Rico J. Puno's and John Lennon's, The Smiths' and APO Hiking Society's—he virtually had no say in the shaping of public opinion of his material, and outside forces (mainstream media, his band's record label, the charts) somehow curated his material for him. They indirectly decided how Ely Buendia the musical artist would be remembered, and he had a phase where he would even openly discredit himself or downplay the magnitude of his "hits." Things have since changed. "It's ironic. I'm at a point in my life where I'd rather have the audience know every song than try to convince them that my preferences are better," he tells this writer. He is, in fact, playing a show dubbed, quite straightforwardly, as Ely Buendia Performs His Greatest Hits, which happens August 3 at the Hard Rock Café in Makati.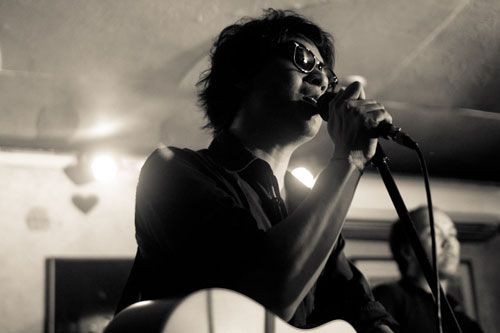 That being said, however, there were gaping holes in the proper appreciation of his catalogue, the most criminal of which is the audience's overlooking of his first solo outing, Wanted: Bedspacer, from 2000. Apart from the self-titled single, a bit of down-tempo electro-pop that reeked of tranquil domesticity (or at least a pining for it), the rest of this otherwise genius release is, as earlier suggested, overlooked: a plain-looking girl shunned in favor of the outwardly more stunning. "Wanted: Bedspacer marked a time in my life when other alternatives in my music and life were becoming more apparent," Buendia says. "It's a cliché, but it was me basically trying to get out of the corner I had written myself into." After the dissolution of his old band, he found himself in lo-fi, stoner-rock outfit The Mongols, whose 2004 debut Buddha's Pest (not to mention the indie release that predated it by a year, A Fraction of a Second), though largely seen as a mere attempt by the singer-songwriter to shed himself of the trappings of yesteryears, was a natural progression in his music. He insists, "I wasn't trying to prove anything. Everything was pointing to that sound [from the time of the Eraserheads'] Carbon Stereoxide anyway," referring of course to the heavier, tonally darker output (read: "Keeper," "Bulakbol") from the short-lived quartet that counted current Pupil bandmates Yan Yuzon and Dok Sergio, as well as frequent studio collaborator Jerome Velasco, in its lineup. But, alas, "People weren't that interested in turning a new leaf," Buendia says. These same people will, however, ultimately warm up to Pupil, his present band, mainly on the strength of the songwriting and the newfangled instrumentation of his cohorts.
Buendia's collaborative spirit remains to this day. In 2010, he finished the record that he began with the late Francis Magalona, In Love and War, with a little help from his friends. "Every time I hear a band I like, I always fantasize about being frontman of that band. This album made some of those fantasies come true." As we speak, he has almost completed studio work for the first release by Oktaves, the group that puts together the members of Hilera with erstwhile Jerks guitarist Nitoy Adriano and himself. "I like to act as casting director in finding a collaborator. I try to find the best person to interpret what I'm trying to put across," he speaks of his eye for creative partners.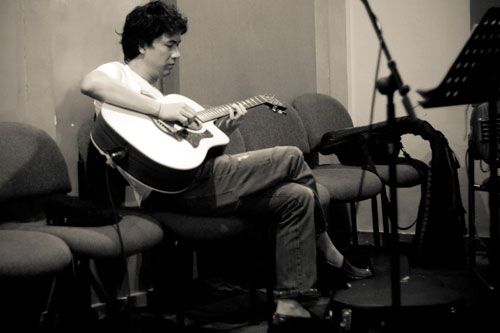 And speaking of partners, Ely's coming together with a different band for his solo show (which, as earlier mentioned, happens August 3 at the Hard Rock Café in Makati). "I finally get to work with Kakoy Legaspi, as well as get reunited with old college mate Simon Tan on bass. I respect and admire each and every one of these musicians." Meanwhile, Chino David, who Buendia says is "doing a bang-up job despite the limited resources," will be acting as the show's musical director.
Tickets to the show need to be purchased in advance. Instructions here. Proceeds will go to the benefit of the A. Mabini Youth Center. "We're trying to come up with enough money to build a youth center in Manila where kids can find useful alternatives to how they spend their time," Ely says.
Photography by Peter Tom Tolibas. All rights reserved. Used with permission.