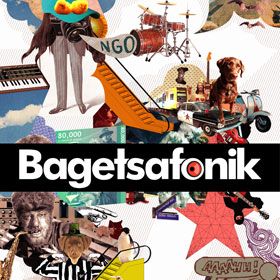 ARTIST: BAGETSAFONIK
ALBUM: BAGETSAFONIK
8/10
Someone told me a long time ago that some of the most beautiful songs ever written were conceived out of pain. For whatever reason, that thought came crashing back to me when I listened and re-listened to Bagestafonik's back-to-basics, self-titled sophomore album.
Maybe it's because of the immediately observable progression of themes in the songs. Put abandonment, falling out and relapse and everything else in between it and you have a complete story of a relationship cycle. Or maybe that's just me.
But it sort of makes sense. Try to give a listen to the album from tracks one through twelve and you might be able to piece together your own story as well.
The CD's packaging itself is quite striking. At first glance even, it looks like something you'd find in one of those albums released by the many run-of-the mill emo bands of the mid-2000s. But thankfully, that's not Bagetsafonik. Theirs is a brand of alternative rock that doesn't shy away from employing whatever it is that's needed to optimize the emotions being conveyed in their songs. Listen closely to the poignant "4:24 PM," where singer/guitarist Ace Cada sings lines like "Pause the world for a moment/content knowing there are things unsaid/let there be no regret, let there be no regret, no," accompanied by just an acoustic guitar and what sounds like a synthesizer. Another song that best shows the band's attention to mood is the album opener "Curtain Call," where Cada, synth man/co-vocalist Marcus Nada, drummer Doy Lagos, bassist Tom Barba, and guitarist Paolo Francisco start quiet, build up to a crescendo then ease back down to a whisper.
As a whole, the self-titled opus from this seasoned indie outfit is really nice listen, and it's good to know that tasteful and well-thought-out yet accessible music like Bagetsafonik's still exists in this time when the supply of sloppy, spoon-fed music is arguably at its highest. Thanks to the quality of the band's latest outing, the time invested by its supporters while waiting for new, recorded material from the band has become all the more worthwhile.
And Bagetsafonik couldn't have come back at a better time. (Independent)