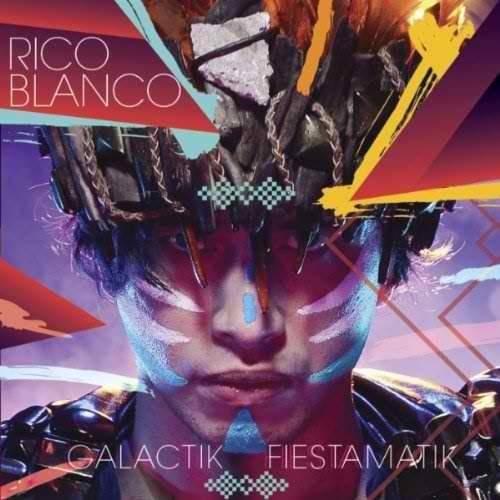 ARTIST: RICO BLANCO
ALBUM: GALACTIK FIESTAMATIK
9/10
Rico Blanco is no stranger to Filipinos all over the world, and this renowned fame is mainly attributed to his contributions to OPM (Original Pinoy Music) since he first surfaced as this scrawny, geeky-looking keyboardist and guitarist for Rivermaya, one of the most significant Filipino rock bands in history nonetheless. Arguably, he is solely responsible for some of the greatest rock anthems of a certain generation that helped influence OPM the way we hear it today. And in only his second solo release after departing from the famed band, Blanco took no time to remind us of his true talents and distinct ability to influence, this time to a whole new generation of listeners.
Galactik Fiestamatik, as fitting as an album title can be, is not only Blanco's celebration to his independence, but is also an introduction to an entirely new realm that the songwriter and musician fortunately finds himself in. His debut release, Your Universe, as brilliant as it was, somehow exuded a sense of vengeance, or a need to prove himself. It showcased his entire repertoire, in a "greatest hits" kind of way. And just as when we thought he had emptied his bag of tricks, then comes this totally different being in Galactik. Galactik portrays OPM in a wholly different light, a light that we might not have seen before. Perhaps we were offered a brief glimpse during Wolfmann's stint in the local rock and electronica scenes during the mid-2000s, which was unfortunately cut short when he passed away in 2005 (may he rest in peace).
This new light, which more evidently prevails in the songs sung in our native tongue, atop a series of dark wave electronic loops and beats, are the main highlights of the album. "Lipat Bahay" is a literal composition about one's disposition when faced with the daunting task of moving places, and serves as a tribute to those novelty items that are sentimental to us – old records, forgotten gifts, and a poster of Dominique Wilkins. The beauty lies not only in the Blanco's witty wordplay, but also in his keen appreciation of the irony behind it, as he sings, "Mga basura pilit pinagkakasiya sa mga kahong bagong bili."
The album's carrier single, "Amats," is a strong album opener, which sings of one's admiration to a special person, and serves perfectly as a showcase of Blanco's new signature sound. The Pandora's Box has now been opened and the possibilities are limitless. In "Sayaw," Blanco's beats tiptoe into dubstep territory as he urges us to just dance our sorrows away, "Huwag mong pigilan ang kembot mo, hayaan mo silang tumitig. Wala kang pakialam."
In almost twenty years and a dozen albums released throughout his career, Galactik Fiestamatik is probably Blanco's most personal work to date. For the very first time, we get to witness a full-length release by just the man himself – written, composed, performed, and produced by Rico Blanco. However, unlike his previous work, Galactik may lack the standard Pinoy rock anthems and chart-topping hits that just roll off Blanco's sleeves; it certainly focuses more on the message and atmosphere of each song. And in the days where computers are replacing recording studios and live organic instruments, sometimes it takes an artist of Blanco's stature to set new standards for young kids locked in their bedrooms to aspire to. As Blanco concludes in album closer, "Ngayon," "Ang nakaraan pasalamatan, pero ngayon ang panahon." (Warner Music Philippines)

Review edited and reprinted from this blog with permission from the writer.