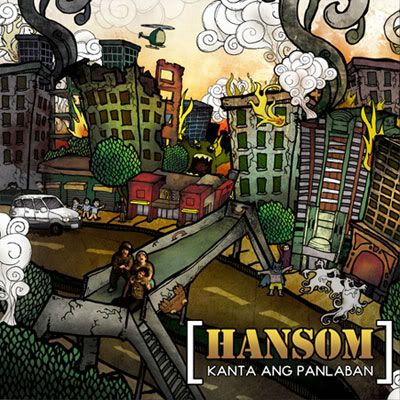 ARTIST: HANSOM
ALBUM: KANTA ANG PANLABAN
7/10
It's never a bad thing to make music that's plainly fun to listen to.
And whether or not brothers Ton (vocals and guitar), Gino (bass and vocals), and Aldo Vergel de Dios (drums) – collectively known to local rock fans as Hansom – deliberately made an attempt to make their record sound that way doesn't seem to matter now, because their debut opus Kanta Ang Panlaban is indeed fun to listen to.
The 14-track debut, which was released in four parts over the duration of 2011 up to January 2012, comes off as a homage to everything about being young. From the aggressive, carefree-sounding instrumentation, to the subject matters discussed in the songs, Kanta Ang Panlaban takes one on a journey through the highs and woes brought about by adolescence. It's as legitimate as it could be, given the fact that Hansom have been around for seven years now and are only at their early twenties at this point.
Perhaps the prime examples of this homage to youth are the songs "Desidido," "Landi," and "Ayos Lang," as each song talks about a facet of growing up that most, if not all, people go through at one point or another. You can't miss with lines such as "Ang hirap gumalaw lalo na pag paharap pero 'di pwedeng maiwan / Nauubusan ng lakas parang wala nang bukas kailan darating ang wakas" (on the moving-on song "Ayos Lang"), and "Bakit ba ngayon ko lang naisip / Sobrang simple lang pala ang kailangan kong gawin / Lalapit lang sa 'yo at magpapakilala / Konting chika lang at liligawan na kita... Ayan na siya sa harapan ko/Konting lakad lang papakilala na ako... Teka lang parang 'di ko kaya 'to / Ituloy nalang natin sa susunod na Linggo" (on the seemingly torpe anthem "Desidido").
With the honest brand of lyricism Hansom's songs contain, coupled with some pretty tight pop-punk stylings (most especially the vocal harmonies) captured on this Tower Of Doom-produced record, older listeners might find themselves looking back at their younger days, while younger ones would surely relate to the words and reflect on what's currently happening to them.
However, one thing that may potentially cause some harm to the music are the references mentioned in some of the songs that might come across as insider-type information among the members of the band and their immediate circle. Examples of which, are the reference to "Ina" on the song "Landi," and the way "Action Man" was narrated.
Still, Kanta Ang Panlaban is a solid first offering from this skilled trio of brothers, as it is a refreshing, highly relatable, and well-executed take on pop-punk. (Independent)
Download Hansom's Kanta Ang Panlaban in four parts for free at hansomband.com.